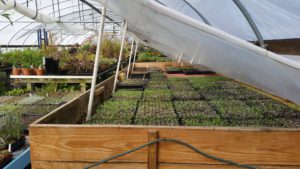 In an effort to have lots of wonderful healthy plants waiting for you we have spent all our time busy working in the greenhouse, and consequently woefully neglected any web presence. We are all anxiously awaiting 'Mater Days, and scurrying along trying to get everything ready. And we are definitely excited to see all of your familiar faces, as well as new ones. Right now we have most of our herbs ready (basils are still small), and plenty of succulents. Perennials are coming along nicely. Come out and visit! April hours will be Monday thru Saturday 9am to 6pm, Sunday noon to 4pm. And I'm sure there will be some flex in there, if our gate is open it's likely we're open and here to help you.
MATER DAYS!!! is Friday April 21st! That weekend is sure to be crazy. We will not bring any of our tomatoes or peppers out before that weekend. Some varieties we will only have small quantities of, and this assures that everyone gets a fair chance at getting some.
We are so excited for this season! This winter we got a second greenhouse up, it's holding all our veggies right now. We've been working on multiple other projects beautifying the grounds. Of course it's always ongoing. Come say hi, and pick up a lovely. Below are lists of tomatoes, peppers and veggies for this year!
Thieneman's other vegetables17